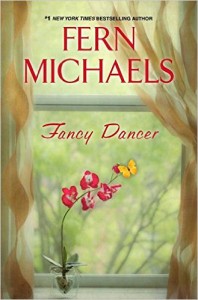 by Fern Michaels (real name Mary Ruth Kuczkir)
2012 Kensington Books
Method of selection: ran over a librarian in my Porsche. Was ordered to read this book for community service. I remain unrepentant.
First sentence: Jake St. Cloud woke up with the queen mother of all hangovers.
Cliches used in the first page: back in the game, burning the candle at both ends, hair of the dog, square one, at the top of his lungs, with every ounce of strength, bone-chilling
Number of butterflies on the cover: 1
Number of butterflies I was able to smoosh with this book: 40 in a 3-day killfest
Net gain: 39 less flying death bugs of the apocolypse to worry about
Other reviews: AJ's Reading Nook, that's actually all I could find
I like Fern Michaels. The person. She grew up a coal-miner's daughter and started writing in the 70's when her shithead husband told her to get a job, but he was not supportive of her new career. Good for her ditching that bum and getting rich. Since then she's written around 60 books. She's put a lot of her money back into the community, funding scholarships, affordable preschools and day-care centers for single mothers, and she buys bulletproof vests for police dogs. Great lady.
But she writes shitty books. Or at least, she wrote this one shitty book. I confess I haven't read the other 59. Perhaps they are all dynamite.
The main character in this book, Jake St. Cloud, is not a porn star. Or perhaps he is but Fern Michaels doesn't want to talk about that too much because the geriatrics who read these books don't know what that is. Jake St. Cloud is a business consultant. The book could have been called The Consultant, but people would have thought John Grisham wrote it. Instead Michaels called it Fancy Dancer. I'll explain that part later.
In the opening pages of the book, Jake St. Cloud gets out of bed and takes….wait for it…a SHOWER.
"OH MY GOD," you say, "WAS THERE A FREAKIN' MURDERER IN THE SHOWER???  DID JAKE ST. CLOUD VALIANTLY FIGHT OFF HIS ASSAILANT WITH HIS GIANT ERECT PORN STAR PENIS?"
No, he tried to wake up first with some cold water. And I already told you he's not a porn star.
"WAS IT A SHOWER INHABITED BY A SCARY MONSTER WHOSE APPENDAGES WERE ALL ERECT PENISES AND ONE WEIRD BLOODSHOT EYE???"
Sorry, no again. No monsters or anything. He turned the water to hot.
"OKAY I SEE WHERE THIS IS GOING….THERE WAS ANOTHER MAN IN THE SHOWER AND HE GOT HIS FIRST TASTE OF ANOTHER MAN'S ERECT PENIS IN THIS HOMOEROTIC FANTASY NOVEL."
Yo, what's with all the erect penis stuff? And why are you yelling?
"I just think they're really interesting is all. So anyway, this is just a normal shower…"
Yup. He soaped up and everything.
"So…he showered."
That's right. And it felt good and he wanted to stay in the shower forever.
"That's not very interesting."
I KNOW! NO ERECT PENISES OR ANYTHING!
"Dude now you're the one yelling about erect penises."
I admit they are interesting.
"SEE??? WHY DOESN'T FERN MICHAELS WRITE ABOUT THAT??"
An opportunity missed, I suppose.
Yes, the opening scene of this book is a guy taking a shower, and even for that the description is bland. This is another trick shitty book authors use, which I've addressed before, where they attempt to make a very mundane scene seem dramatic, and fail to do so.
I checked the summary in the dust jacket for where this shitty book might be going. I found out that Fancy is a young girl, named Fancy. She is the daughter of Angelica Dancer. Fancy Dancer. They should have named this book Fancy Title but John Grisham took that too.
Jake St. Cloud crashes his porsche and almost kills a mother and child in the other car, and instead of jail gets community service (because he's rich and white) and is ordered to help a young child (named FANCY!!! ARRGHHHH!!!!!!!!!!!!1409092sbc,.pui 984 drliu9f/aibsa,.k4pbsa3 4k/d3a54id.i5rsde;ipsr8fo;ipe iugrcoi/0fa,.p4dr8ca.ib8rad-!!!!)
Excuse me….my hand slipped.
…named Fancy, who was training to be a ballet dancer but whose "career" was cut short by a terrible accident, possibly involving many erect penises but I didn't get that far 'cause this is a shitty book.
As I said, I like Fern Michaels, but she writes shitty books. Because she seems like a good person who merely exploits the Shitty Book New World Order to fund affordable preschools and dog vests I'm going to issue special dispensation and create a new category: Shitty But For A Good Cause.
(Support this site by purchasing this shitty book through one of the links below.)