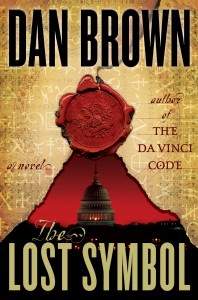 by Dan Brown
Doubleday 2009
Method of selecton: Ripped out the beating heart of a young man dressed as Tezcatlipoca in traditional Aztec ritual sacrifice, then took a stroll to the library
First sentence: The Otis elevator climbing the south pillar of the Eiffel Tower was overflowing with tourists.
Worst sentence: To this day, this ancient battle garb was donned by modern office warriors hoping to intimidate their enemies in daily boardroom battles.
Number of Dan Brown books in the world: 200 million
Number of stacked Dan Brown books it would take to knock the International Space Station out of orbit: 7,286,400
People who could actually afford to do this: Dan Brown, Scrooge McDuck, Carlos Slim
Number of people who would enjoy this spectacle more than actually reading a Dan Brown novel: 200 million + me
Other reviews: Pajiba, Amina Black, Bookfox, All About Romance
Before I begin my review, I'd like to share a few facts about the author: Dan Brown was raised Episcopalian by a mathematician father and choir organist mother in Exeter, New Hampshire. He went to Philips Exeter Academy, then to Amherst college. He was a member of the Psi Upsilon fraternity, played squash, sang in the Amherst glee club, and spent a year abroad in Spain. Dan Brown is the whitest man in America. Perhaps then he can be forgiven for also writing such shitty books. "Brown" is obviously a pen name.
For this entry, I did some research on prologues. Because shitty book authors exist only to write prologues. And prologues exist to make authors shitty. They are short, shitty chapters that slow us down so we can't get to the rest of the book to find out how shitty it is. According to Wikipedia, the first prologue of the variety Dan Brown uses was written by the Greek playwright Euripides, the first shitty book author, who employed it "almost perversely, as a medium for his ironic rationalismo." I don't know what that means, but whoever wrote that copy is a genius and more talented than Dan Brown and his shitty prologues. And only in shitty books do people "beam". Nobody I know has ever beamed. Nobody I know has ever described a situation to me in which someone "beamed". If I saw someone "beam" I would call a fucking paramedic.
I did not know when I picked up this book that Dan Brown wrote The Da Vinci Code. Not that it matters, because it turns out Dan Brown writes shitty books and shitty people pay to read shitty books and there will always be millions of shitty people who want shitty books. Books where the author uses stupid devices such as using italics so you can hear the narrator's boring thoughts. Because the writer's terrible writing can't actually tell you what's going on.
Dan Brown also wants you to know that everything in this book is really real. It says so on the first page, before the prologue, in some kind of super-duper-shitty pre-prologue I will call a "supralogue", where he claims that
All organizations in this novel exist, including the Freemasons, the Invisible College, the Office of Security, the SMSC, and the Institute of Noetic Sciences. All rituals, science, artwork, and monuments in this novel are real.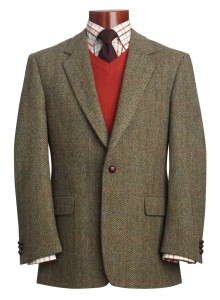 He makes sure to use REAL things in his book so you know just how really real it really is. Things such as Otis Elevators, the Eiffel Tower, a Falcon 2000EX corporate jet (superseded by the longer-range 2000LX in 2009), the Washington Monument, Dulles International Airport, a Harris Tweed jacket (pictured left), Phillips Exeter Academy, a Lincoln Town Car, Beltway Limousine, and Windsock Drive. With so many real places and real companies and real products, it feels really real! And also like paid product positioning. If Dan Brown ISN'T being paid by at least some of these real companies to promote their real products in the first three pages, he is not only a shitty book author, but a DUMB shitty book author, because clearly all the shitty readers are dumb enough to pay him to promote someone else's shitty products, so he should at least cash in. With all that money, he could pay for writing lessons. Shit, with that much money, he could pay to reanimate Ernest Hemingway and force him to write his next novel, Inferno, at the point of a gun that shoots diamonds.
In a 2009 interview Dan Brown told Matt Lauer that some people "get" the way he blends fact with fiction, while others "should probably just read somebody else".
Yes. What he said.
(Support this site by purchasing this shitty book through one of the links below.)