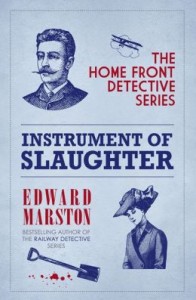 by Edward Marston (But not really. See below.)
Allison & Busby Limited 2013
Method of selection: The title. Is Instrument of Slaughter. Look at it. It actually says that. And there's clip-art, too.
First sentence: The meeting was held in secret.
Worst sentence: The meeting was held in secret.
People who enjoy this book might also enjoy: when the tip of their penis touches the toilet water, silly hats, leprosy
Words in the publisher's name that are obviously a diversion tactic: "Limited". They clearly accept any manuscript, including ones written by cats. Shitty cats.
Other reviews: None. I'm the only one stupid enough to review this.
Shitty book writers always put long, boring and completely unnecessary descriptions of their main characters in the first three pages of their shitty books. They believe we don't know what people look like. They sound like this:
Guy Dudeman was tall and thin with untamed curly blonde hair and worked in a barn with a cow named Zoe, while his partner, Ugly Manfat, was short and stout with a very small beard and blue eyes and a dick coming out of his forehead and every time he sneezed he gave himself a black eye.
Will any of these details ever be relevant to the story? Will the two be playing basketball? Will they be participating in a bag race and be out of sync? Perhaps they will be going on double dates with conjoined twins and come to blows over how high to hang the sex swing, but it turns out Manfat got another black eye over nothing because the conjoined twins are actually conjoined transvestites and don't speak any English and Thai has no direct translation of "sex swing" anyway. Edward Marston devotes a whole paragraph this way on just the second page:
Hambridge was a big, ugly, misshapen, red-haired young man with freckled features and a look of permanent bewilderment. Alone of them, he came from a family of Quakers. Price, by contrast, was shorter, slighter, darker and of middle height. Proud of his Welsh roots, he was at once the most genial and combative member of the group. He worked as a cook for the Great Western Railway, travelling, for the most part, between Paddington and his native country.
Middle height? Do shitty writers realize when they type these things that someone will one day have to read them? Why do they insist on saying nothing instead of something? I can see how it's weird to be proud of your Welsh roots, but the rest is just meaningless filler material.
We also learn about Ablatt, who was a "tall, slim individual with striking good looks and a confident manner", and Leach, who was a "thin, pallid, fair-headed young man with a nervous habit of looking to left and right as he spoke". Three pages in and I've already forgotten their names and what they look like, and it never mattered to begin with.
Another dead giveaway of a shitty writer is they use fake names, so that nobody can find them and beat them. "Edward Marston" is a pseudonym of Keith Miles, who has also written as "Conrad Allen" and "Martin Inigo". But his plan didn't work, thanks to WikiLeaks.
One last note: On the inside front flap is listed the price of this book: £19.99. For those of you who don't know, that's like $3,000 in American money. This book is more expensive than bladder cancer, though it's debatable which I'd rather have.
(Support this site by purchasing this shitty book through one of the links below.)